Voting for DreamyMc on third-party websites helps us to grow the Dreamy community!
You can vote on the Dreamy Server by following the vote links, submitting your Minecraft username and pressing the vote button.
Voting can be done once every 24 hours, or once per calendar day, depending on the website.
Didn't receive your vote keys? Check our FAQ for help.
For each website that you vote on you will receive a
Vote Point
as well as
Vote Rewards
. You are able to receive up to 5
Vote Rewards
per day.
For each website that you vote on you will receive a
Vote Key
. When voting on every website daily you will be granted a bonus Vote Key. You are able to receive up to
4
Vote Keys
per day.
Vote Keys can be used to unlock the Vote Crate located by walking from
/spawn
You are not required to be online on a DreamyMC Minecraft Server at the time of voting to receive a Vote Key.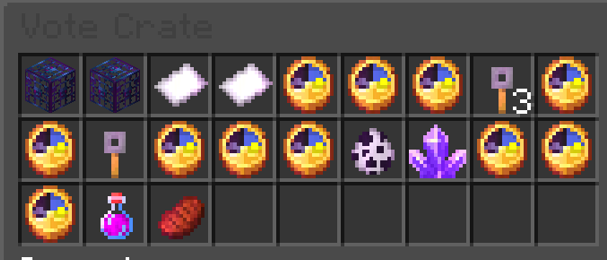 Every vote on the server contributes and counts towards a piñata party. A piñata party occurs after 40 total votes on the server, where different reward items will be granted to all of the online players on the server.
Piñata Parties are independent and separated between the Earth and Survival server, which means that voting while being online on one of the server only counts towards the vote party on the server that you are currently playing on. You must be online during the time the party occurs or you will not receive any rewards
The Piñata party resets after reaching 40 total votes. Piñata party progress can be tracked by using the scoreboard at the side of the players screen.
You are guaranteed to receive 1 vote key from the Piñata party; you may also receive ores or other keys.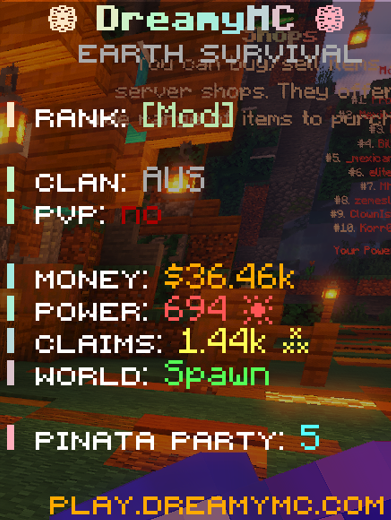 Vote tokens are a reward that can be earned from the vote crate or the vote party!
The vote shop contains item which can be used to buy different items. The vote shop can be accessed with the
/voteshop
command and we are always expanding it